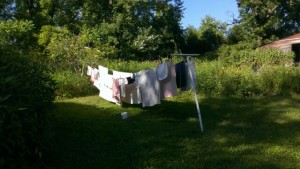 We choose many sustainable practices that are higher labor and higher cost but leave a smaller carbon footprint. Here is a list of some of the sustainable practices we use here at the Green Apple Inn:
Use organic cotton linens and towels.
Heat with wood as much as possible.
Use natural latex mattresses in all the guest rooms.
Make cleaning products on site from common, biodegradable ingredients.
Line dry laundry, even in winter.
Use solar to heat water and generate electricity.
Grow and preserve our own organic food.
Make rugs and quilts out of worn clothes or discarded fabric.
Keep backyard chickens that forage on pasture and eat ticks.
Refinish woodwork with linseed oil rather than toxic finishes.
Use no-VOC paint in all the rooms.
Drive electric cars and limit use of gasoline vehicles.